---
Kernersville's Most Trusted Gold, Silver, and Coin Buyer - 336-497-5145
C & J Trading Company specializes in Buying Gold, Silver, Coins, Antiques, Watches, Jewelry, and Items of Collectible Interest.
<!! iframe src="http://fast.wistia.net/embed/iframe/hedwzattoj?controlsVisibleOnLoad=true&playerColor=333333&plugin%5Bsocialbar-v1%5D%5BbadgeImage%5D=http%3A%2F%2Fembed.wistia.com%2Fdeliveries%2F3574f7f1910ee97739ad806a18fc577d0475301f.jpg%3Fimage_resize%3D100&plugin%5Bsocialbar-v1%5D%5BbadgeUrl%5D=http%3A%2F%2Fdatasphere.com%3Futm_source%3Dembedvideo%3Futm_source%3Dembedvideo&plugin%5Bsocialbar-v1%5D%5Bbuttons%5D=facebook-twitter&plugin%5Bsocialbar-v1%5D%5Blogo%5D=true&plugin%5Bsocialbar-v1%5D%5BpageUrl%5D=http%3A%2F%2Fmy.datasphere.com%2Fnode%2F885684%3Futm_source%3Dembedvideo&version=v1&videoHeight=360&videoWidth=640&volumeControl=true" allowtransparency="true" frameborder="0" scrolling="no" class="wistia_embed" name="wistia_embed" width="640" height="388" !!><!!/iframe>
We offer a pleasant alternative to the Gold and Precious Metals business by using current market pricing to offer you a fair market value for your items, saving you time and money from shopping around for the best price. We offer investment Silver and Gold in price ranges that fit any investor's budget. We buy item of collectable interest including vintage glassware, vintage musical instruments, collectible figurines, vintage toys, and antiques.We offer a fair alternative to the wait and hassle of auctions.
We at C & J Trading company believe in treating our customer with the upmost respect. We strive for our business to be "the place" in Kernersville where people can sell and buy in a trustworthy and comfortable atmosphere. We are conveniently located in the Kernersville Downtown Business District at 4306 Kernersville Rd..
C & J Trading Company
"Kernersville's Most Trusted Buyer"
- Not Your Usual Pawn Shop in Kernersville -
<!A HREF="http://www.kitco.com/price/">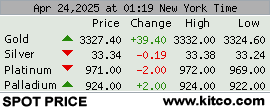 <!/A>